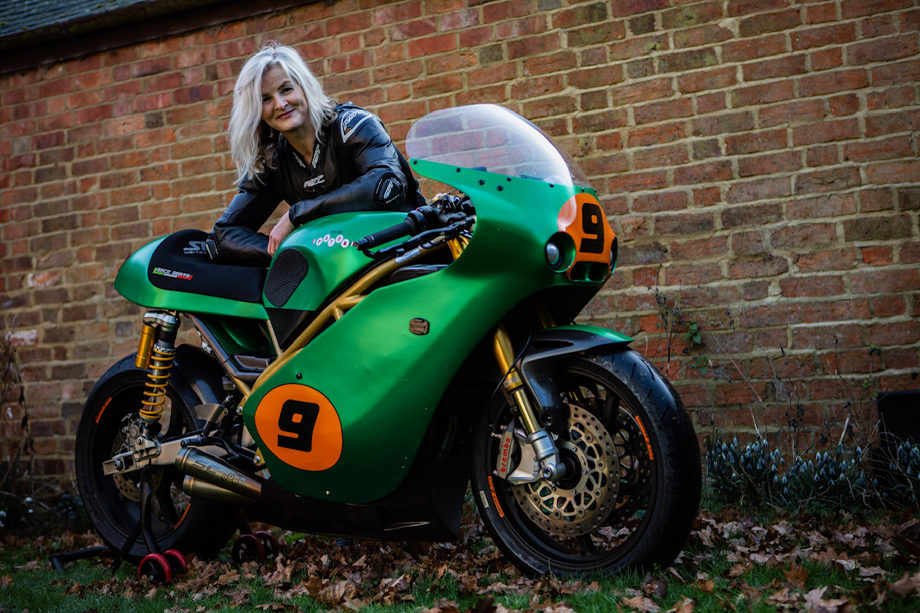 By winning the World Supersport 300 title Spain's Ana Carrasco has put female motorcycle racers on the map in recent years, but one fast Brit has been blazing the trail for lady racers for over two decades now. Auritech wearer Maria Costello was a lap record holder at the Isle of Man TT and today, uniquely, she races on both two wheels and three around the famous course.
Maria started racing in 1995 and after initially competing on the short circuits, made the switch to real road racing the following year.
Being a woman in a male dominated arena meant that Maria stood out and her racing activities were supplemented by shifts working as a road tester and a presenter on the now defunct Men and Motors channel, which further helped raise her profile.
At the 2004 Isle of Man TT Maria entered the record books when her 114.73mph lap made her the fastest ever woman to go around the formidable 37.73 mile course – a record that stood for five years. In 2016 she was in the record books again, becoming the first solo female to stand on the famous podium when she took third in that year's Senior Classic TT.
These days Maria combines riding both solo motorcycles and sidecars. At TT 2019, she made more history by competing in both the sidecar races and the Lightweight TT, and she came agonisingly close to another Classic TT podium, taking fourth in the Senior race on an Italian Paton machine.
Over the years, Maria has become a well established ambassador for motorcycling – in particular in encouraging more women to get on bikes, where she has run a number of female only track days. In 2009 she was awarded the MBE for services to motorcycling and has in recent years worked with the IAM Roadsmart (formerly the Institute of Advanced Motorists) as an ambassador. She's also a passionate Auritech user, who wishes that she'd discovered ear plugs many years earlier. She told us: "I'm going deaf and it's my own fault! My panic now is that I don't go more deaf. My Auritech ear plugs are really important to me and I wish I'd worn them earlier, so I want to make more people aware of the need to wear them. I tried the squidgy foam ones many years ago but didn't like them, because I ride on sound and need to hear what the bike is doing. I couldn't get on with them, so I didn't use them. Now technology is much better and filtered plugs are more comfortable and still allow you to hear the engine noise, even though they block out the noise of the wind. I lost mine a few months ago and got in a right panic, especially as I ride a lot of really noisy motorbikes these days, making them even more important."
Having become a role model for women on motorcycles, Maria feels that there is more out there for lady bikers, even though they remain a small percentage of the riding population.
"When I started out I had to wear a man's one-piece suit, because you couldn't get a woman's one-piece suit," she adds. "But we are still a minority and it's only if more woman are riding that the collections will grow and the manufacturers will support us. We are a tiny market but there is much better kit out there and bikes are easier to ride. Manufacturers have wider ranges and the bikes are easier to ride in general. Customs, classic and retro bikes are appealing to many riders and with the latest bike clothing you can ride and look like a woman, rather than a Michelin man, these days."
Catch up with Maria's latest racing activities through her website: www.costelloracing.com
Find out more about Auritech biker earplugs here
Photo: Amy Cutliffe Photography