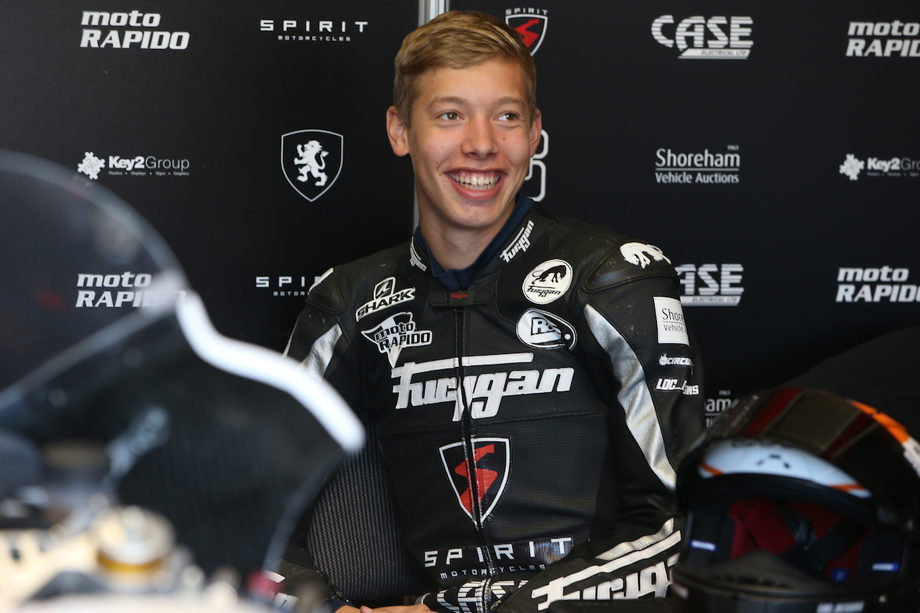 This weekend should have seen the start of the British Superbike Championship (BSB) season at Silverstone but, like all sport in the UK, the Covid-19/Coronavirus crisis has seen the series put on hold indefinitely.
Among those disappointed to be missing out is Auritech-sponsored Thomas Strudwick, who is expected to be one of the leading lights in the British GP2 Championship, the main BSB support series. The 18-year-old from West Sussex races for the Spirit Moto Corsa team and has been training hard for his second season on a 600cc motorcycle. He spoke to us about his plans for the season.
"We were hoping to get to Valencia to test the new 2020 SP2 bike," Thomas told us. "Unfortunately the lockdown in Spain started before I was able to ride, but luckily I had an opportunity at Cadwell Park for a shakedown of the bike - I'm pleased with the updates!"
After winning numerous races and finishing runner-up in both the inaugural British Talent Cup and the standard class of the British Motostar series in 2018, Thomas made the step up to the GP2 series last year. Despite being a learning year, moving up from a 250cc single cylinder machine to a 600cc four, Thomas grabbed eight podium finishes on his way to fifth in the championship.
This year he remains with the same Spirit Motorcycles run team, who have built a brand new machine using inspiration from more recent World Championship based motorcycles, and despite a lack of testing with the new bike, Strudwick was at least able to get plenty of miles in over the winter using his 2019 machine.
"I was keen to do another year in this championship and I know that I needed to work on some particular areas of my riding. That was my first year on a bike bigger than a 250 and it was really important to review and put in place a schedule to improve. It was fantastic to be able to keep the 2019 bike in Spain, for me to train on, especially as I could then analyse properly the changes I was making. That allowed me to keep active and meant that I kept going and didn't have a long break off the bike."
With the start of the season delayed until at least June, Thomas is remaining busy and focussed, despite the current downtime. He added: "I'm in my last year at college and still have a few assignments to finish. Now I am stuck at home, I am able to concentrate on that and am catching up with the rest of the class. I'm also keeping fit by getting back on the roads cycling and also running. I enjoy getting out on the bicycle but wasn't able to keep to my normal routine last year as I needed to bulk up a little bit to ride the bigger GP2 bike, and found that I lost too much weight through cycling. My local gym is closed but I am lucky enough to have enough equipment at home to continue training, and if the rules change and we're not able to go out and cycle then I'll happily use the turbo trainer so that I can work out indoors."
As well as working on his physical fitness, Thomas is also developing his race craft through the use of a car racing simulator. "I try to put in 30 minute sessions, working on my consistency. It's a driving game with a steering wheel and pedals. I switch all the assists off and work on hitting my markers every lap, putting in consistent runs like you have to do in a race. It's good for working on my focus and concentration."
Having worn Auritech since his days racing mini bikes on go kart tracks, Thomas says that he is keen to share the need to wear good hearing protection to up and coming young riders. "Hearing protection is important because any damage to your ears can be permanent and, for me, Auritech works better than disposable foam plugs. Because they are custom fit, they give a consistent performance. They always sit the same way in the ear, meaning that they are comfortable and always give the same feeling. Of course, other companies make custom fit earplugs, but the filter in the Auritechs are important when riding a motorbike. They block out most of the wind noise, but still let me hear what the engine is doing, which is important on a race bike. They also have the benefit of being able to hear my mechanics speaking to me on the grid, or in the pit box – and they don't block your ears up! Riding a motorbike is all about balance and wearing solid earplugs can affect that. The Auritechs have a filter in them, which means that my balance isn't affected. I rely on them now and I make sure to emphasise the importance of wearing hearing protection to the younger riders I work with today."
Follow Thomas and his progress this season on Facebook (https://www.facebook.com/thomasstrudwick25/ ) and Instagram (https://www.instagram.com/thomasstrudwick25/)
Find our more about Auritech here
Photo credit: Bonnie Lane