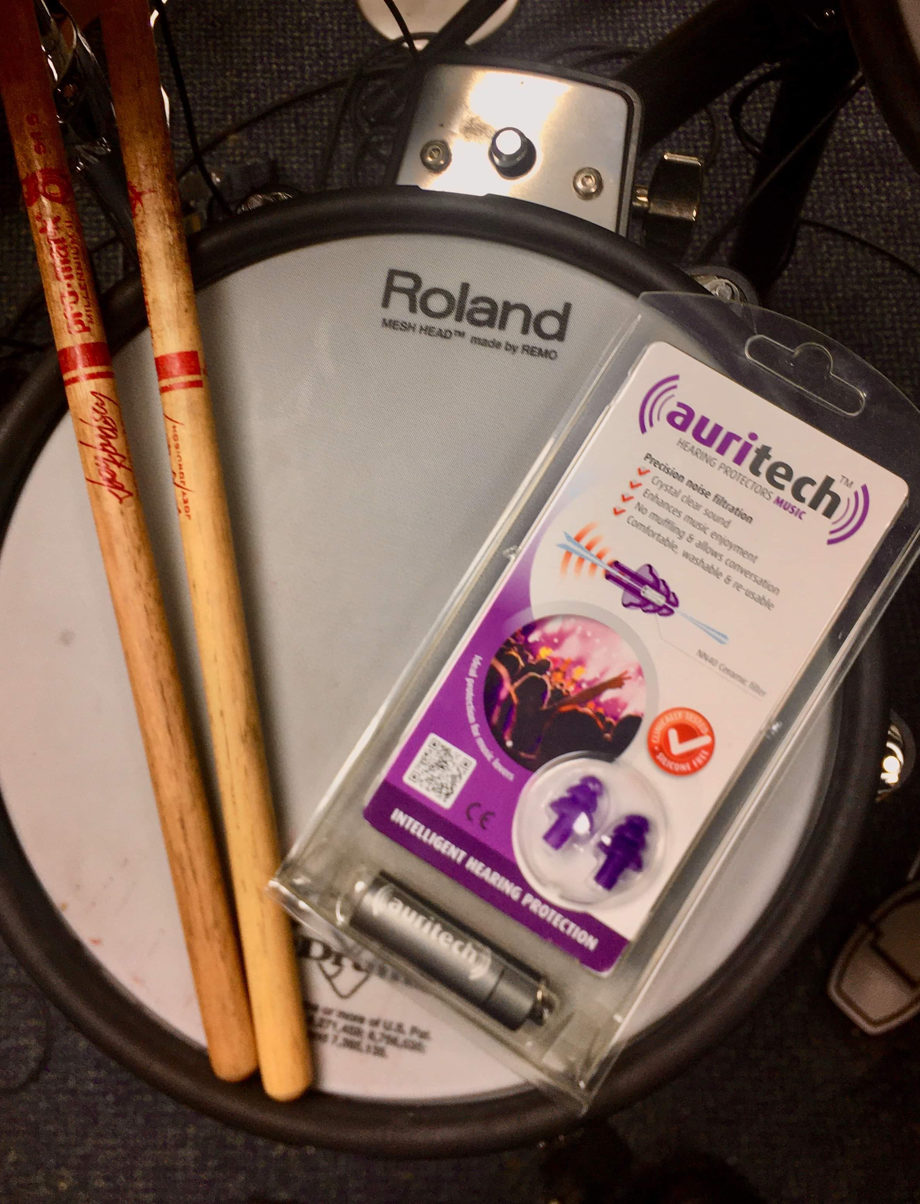 For too many of us, learning to look after our hearing is a lesson learned too late in life.
Enthusiasts and professionals participating in noisy activities, such as shooting, motorcycling and music, often only realise the harm they are doing to their hearing after the initial damage has been done. Of course, it's never too late to protect one's hearing and even the adoption of hearing protection in later life can prevent any hearing loss from getting worse.
But, of course, it's better to start them young, so we gave teenage drummer Danny Walton-Brennan a pair of Auritech Music hearing protectors to try out. Here's what he thought…
"My name is Danny, I am a 16-year-old drummer with nine years drumming experience. I had private drumming lessons for the first six of those years from leading professional drummer Spike T Smith and I now attend college studying music performance and production. In my spare time I offer private drum tuition to aspiring young drummers.
"Given the nature of my instrument and my loud playing style, I take my hearing protection seriously as I realise that any damage to my hearing could well be permanent.
"I was asked to test out the Auritech Music earplugs and document my findings. Something I don't usually see, a young musician being asked for an opinion on a professional product, so was eager to see how the earplugs performed in my world.
"I have used them most days at college for around three months. I'm definitely the loudest member of our music class, so it seemed entirely appropriate I start to consider hearing protection on a daily basis – most of which is practice – and not just for performances, studio recording and concerts.
"The Auritech Music earplugs are blister packed that clearly displays the purple pair of hearing protectors and the smart looking silver tube-shaped case they come with. At one end of the carry tube is a mounted split-ring to typically attach to a lanyard making them always within easy reach.
"I have experimented with other hearing protectors over the years and have found that they tend to drown or supress all noise and not specifically filter sound frequencies. It's this filtration that really sets Auritech protection apart from some of the competition. It's well documented that drummers can produce noise levels over 100dB and, of course, more than that quite easily with amplification. They definitely did the job for filtrating piercing sound that can damage my hearing when playing or when listening to playback. Yet they allowed me to hear conversations with other musicians perfectly in between performances without having to remove them, allowing me to concentrate on what I'm doing without having to worry about taking them out and losing them.
"It's difficult to explain the benefits of a product that has to be used to be appreciated. I would recommend these for all musicians, not just drummers. The small case they come in kept them well protected and within easy reach. The only small criticism is not with the plugs, which are excellent, but with the screw style lid, which I found could be hard to remove really quickly and occasionally it stuck while rotating it trying to open the lid. Personally I would have preferred and air tight seal with a pop off to allow instant one-handed operation. This minor issue does not interfere with the excellent quality, durability and performance of this great product.
"I have advised all my fellow college students to use Auritech Music earplugs because they really do work, are comfortable to wear, easy to clean, a good fit and have never given me a problem in the six months I have been using them.
"Overall a five star rating from me!"
Follow Danny on Instagram at: https://www.instagram.com/dwb_music/ or through his Facebook page: https://www.facebook.com/DannysMusicPage/
To find out more about Auritech Music see Auritech Universal Music Earplugs