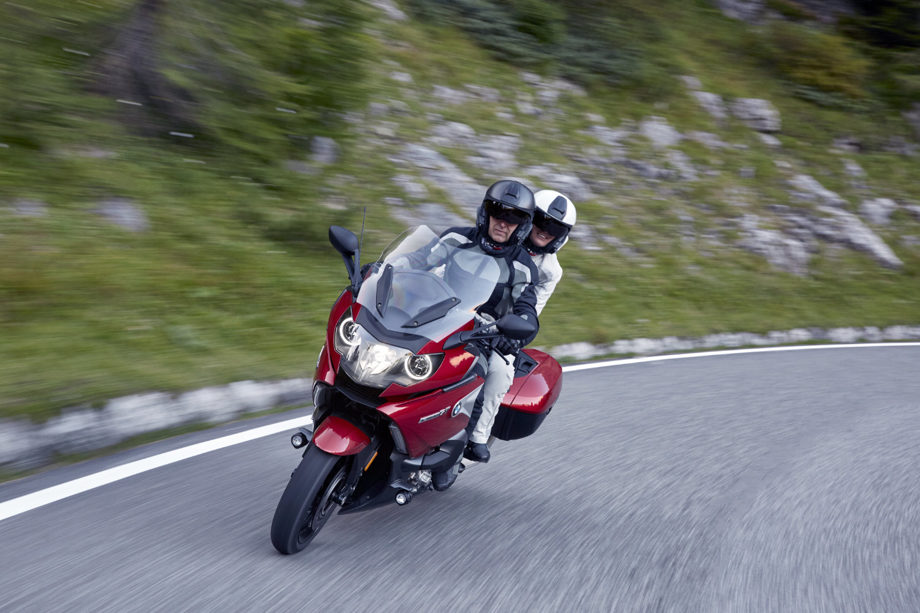 Summer's here and for many motorcyclists that means one thing – going on a motorcycling holiday!
Touring on a motorbike is a wonderful experience, but does take a little more planning than a similar car journey. On a bike, space tends to be at a premium, meaning you'll have to think a little bit more about what you pack, and as motorcycling is a more physical and engaging activity, you'll need to make sure you pack the right equipment and protective clothing for your journey.
Packing
Plan your packing well in advance. Even when fitted with a top box and panniers, bikes have very limited luggage space when compared to cars, so get work out what you want to take and get packing well in advance.
Clothing
Related to packing, your riding gear will be key to how enjoyable your riding experience will be.
Check your route and try to work out what the temperatures are likely to be. Full leathers are always good for protection but are cumbersome and can get very warm, meaning that textiles are usually a better option. If you're riding on a cruiser type bike, you might want to travel light and go for a leather jacket and armoured jeans, which can be worn as casual wear when you get to your destination. Just make sure you pack a waterproof oversuit you can put on when the rain comes. Multiple thin layers are advised, as you can always add/take off as the conditions determine.
Test ride
Just as you wouldn't go out and run the London Marathon without some training, so it is advisable to go on a little test run – especially if you have some new gear or haven't ridden for a while.
Take a morning to go for a ride and check that what you're planning to wear on your tour is still comfortable after a few hours in the saddle. There's nothing worse than a bike or clothing that's uncomfortable on a tour, so better to discover this the week before, when you've still got a chance to fix it, than when you are halfway to the ferry.
Get fit!
You certainly don't need to be a superhuman to go on a motorcycle tour, but a degree of fitness and preparation is advised to help you get the best from your tour, as a full day in the saddle can certainly take it out of you.
If you've got a big tour lined up, do your best to get in shape – and try to eat and sleep well in the days before departure too.
Check documents
Especially if you're going abroad, make sure that your documents are in order. Most countries will require you to carry copies of most of your documents, so check in advance what you need to take, and place them all in a waterproof bag for safekeeping. In most cases, you'll need your insurance certificate, vehicle registration document and driving licence, as well as your passport and MoT. Make sure that you also have access to your medical insurance and breakdown cover information. These are usually optional, but highly recommended. Various countries also have certain requirements such as carrying of hi-visibility vests, breath testers and spare bulbs. This is not standardised throughout the EU, so check in advance to avoid a fine.
Prepare your bike
It goes without saying that you should get your bike in shape before any big tour. Get it serviced and make sure that any borderline consumables, such as tyres and brake pads, are replaced before you go. A broken bike will ruin your holiday and can be very expensive, so give yourself the best chance of making sure this doesn't happen.
Check your route
These days its very easy to set a destination in the sat nav and follow it blindly to your destination, but doing a little last minute investigation on the likes of Google Maps is always useful for several reasons.
First, road works happen – and that sucks. Even on a motorcycle, where you can usually filter through the traffic, getting stuck in roadworks is boring. Have a quick check before you set off and see if any are likely to affect you; if so, there may be an alternative route available.
Second, actually looking at a map often throws up some cool stuff you might want to incorporate into your journey. That wiggly line on the map may take longer than the motorway, but it might just be one of Europe's best motorcycling roads too. Physically looking at the map also allows you to see towns and attractions that might make awesome stopping points too. Sometimes the journey is as much about the journey as it is the destination.
Keep hydrated
Dehydration is one of the biggest factors in causing your mind to wander while riding. Unlike driving a car, where its easy to take a slug of water on the go, keeping hydrated takes a bit more planning on a motorcycle tour, especially in warm weather.
Race style camel back systems are available, which can be filled with liquid and sipped through a straw in the helmet, although these are probably not necessary for all but the toughest adventures.
Do, however, make sure that you get into the habit of drinking water when you stop to fill up with petrol, as well as keeping hydrated right up until you go to sleep at night.
As with all things, though, its best to be aware of what your body is telling you. If you feel yourself struggling to concentrate or are boiling hot, take a break and make sure you take on board plenty of fluids.
Wear hearing protection
Wind noise on a motorcycle is a major cause of fatigue when riding at high speeds for sustained periods.
It can also cause permanent damage to your hearing. Riding at 62mph can generate 95dB of wind noise, which can cause permanent hearing damage after just 15 minutes. At 74mph, that time can drop to seven minutes.
Cheap foam earplugs will block out all the noise from the outside world, but they can be also be uncomfortable when worn for hours on end. Premium filtered earplugs, such as the Auritech Biker, have the advantage of reducing the harmful wind noise, while allowing 'good' noise through, meaning that you can still hear the traffic noise around. These are particularly good if you like to use an intercom system while riding, and the design wicks away perspiration.
Ride on the right side of the road!
Ok, so it sounds so simple but if you are travelling abroad there's one piece of advice that trumps all others – keep to the right side of the road!
In Britain we ride on the left but for most others it's the right. This is not usually a problem when you're in traffic, but on quiet country roads, or when setting off, it's easy to go into autopilot and set off on the wrong side of the road.
A good tip is to make a sticker, or stickers and slap it somewhere prominent – such as the dashboard or mirrors. Sure, it might seem like overkill, but the penalty for setting off on the wrong side of the road can be fatal.