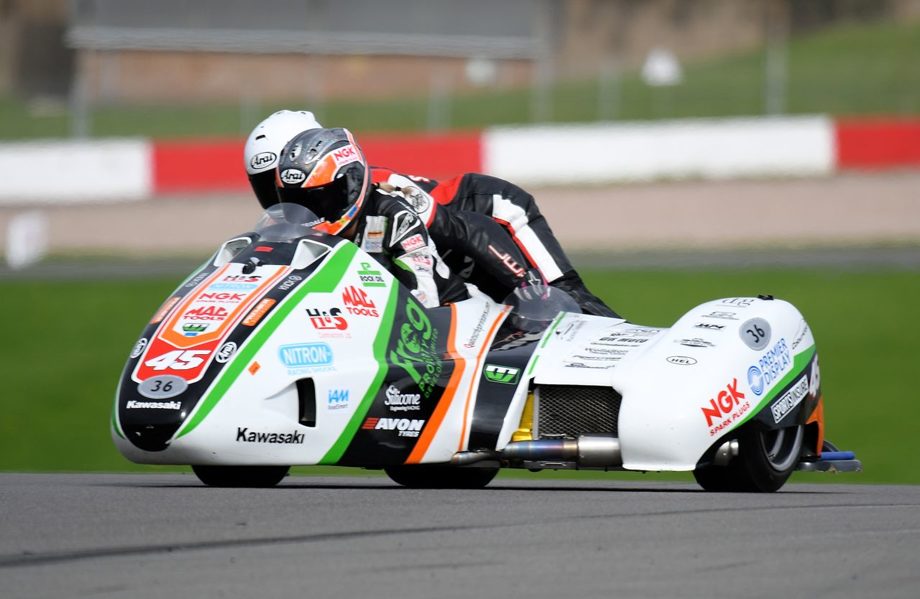 After almost 12 months out of motorcycle racing due to Covid-19, Auritech-supported riders Maria Costello MBE and Thomas Strudwick, were finally able to get back to competitive riding in September.
Isle of Man TT star Maria made her return with passenger Sarah Stokoe and the duo claimed a new personal best on board the LCR Sidecar at the BMCRC-MRO Championship at Donington Park on the weekend of 5 – 6 September. The popular Northamptonshire racer's entire road racing schedule was scrapped this year because of the Covid-19 crisis that has impacted all motorcycle racing championships, and has decided to get out on the short circuits for the truncated 2020 season.
After a full year away from racing, the pair managed to shave almost 1.5 seconds off their previous best lap time at Donington, which was set back in 2018. A delighted Costello said: "I cannot put into words how good it felt to be back competing on my sidecar. It's been such a long time coming!"
She continued, "Despite a few mechanical issues that our mechanic Matt had to deal with, we had four race finishes and secured a new PB lap time in the process, not bad considering I've been away from racing for 12 months. I have a lot of people to thank for making this weekend happen; Matt Williams worked tirelessly behind the scenes before and throughout the event to enable us to start and finish all four races. And thanks of course to Sarah Stokoe for doing a great job as always."
Maria was also impressed with the size of the grid at the meeting, adding: "The turnout of sidecars was great, and I enjoyed some strong battles on track. Well done to Bemsee for putting on a great meeting in these difficult times."
Former British Talent Cup runner-up Strudwick also enjoyed being back on track as he joined Team Edge RST Racing for his first outing in the RFME ESBK Spanish Supersport championship at Valencia, riding a Yamaha YZF-R6. Before the opening round, Strudwick had a positive two-day test in August with the bike and team in preparation.
In his first qualifying session for almost a year, Strudwick secured fourth in class on the grid for race one. Unfortunately, he was struck by another rider from behind, which bent the bike's exhaust and affected the handling, causing him to crash out of the leading group.
Strudwick said: "It was a great start to race one, moving up, but I had a big impact from a rider behind bending my exhaust. I then struggled to turn on right corners, putting me further on the limit on lefts. I was a little too deep and lost the front."
However, race two went to plan and the form Strudwick showed in the first race continued, earning him a third place podium in his class in his first full ESBK Spanish Supersport race. A thrilled Thomas added: "It was super-hot! The pace is super-high here, all the riders are fast, which makes for top racing. A massive thanks to Team Edge for the opportunity this weekend, it's been incredible."
Congratulations to both Maria Costello and Thomas Strudwick on their impressive returns to racing.