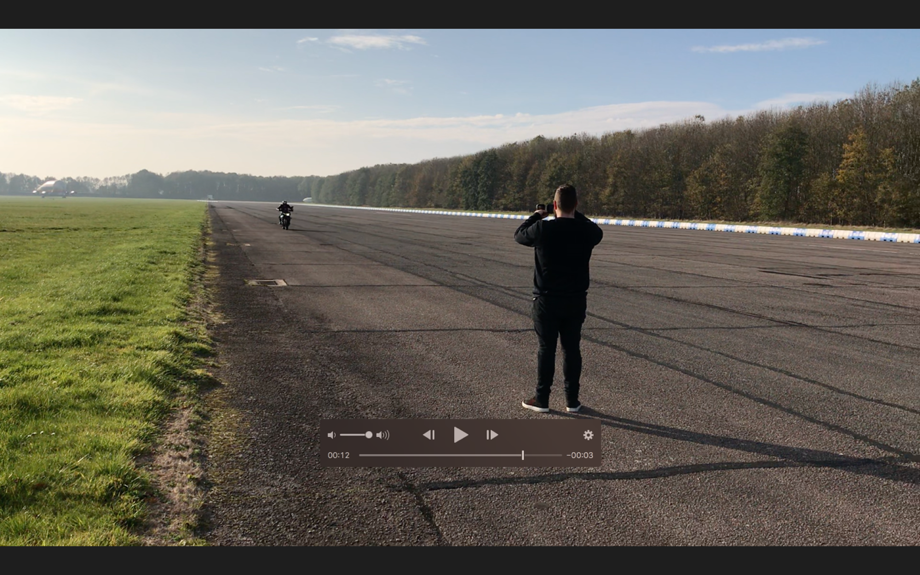 At Auritech we are passionate about our product. Pretty much anyone can make earplugs to block out harmful levels of noise, but our mission is to enhance the wearer's experience by blocking out those dangerous high frequency sounds while keeping (and ideally enhancing) the lower frequency sounds (like speech and traffic noise) which add to the safety and enjoyment of the ride.
Recently we undertook a number of research projects to complement our previous data and to get independent feedback on our products.
At the end of last year we joined forces with the University of Southampton's ISVR Consulting (Institute of Sound and Vibration Research) department and the UK's RiDE magazine, to ascertain the effect of variables like helmet, screen and the actual motorcycle have on the rider's exposure to wind noise.
Using a Yamaha Tracer 900GT as our control bike (and also using a Zero electric motorcycle for comparison) ridden by Martin Fitz-Gibbons from RiDE, we tried three different helmets and three alternative screens to understand the variables in controlled runs at Bruntingthorpe Proving Ground in Leicestershire. The runs were all supervised by Simon Roberts from ISVR, who recorded and analysed the results for us.
Running at 70mph with a mainstream HJC RPHA 70 helmet, Martin tried out the Tracer with its standard screen, Yamaha's accessory touring screen and an aftermarket alternative from Skidmarx.
With the standard screen, 100.8dB of wind noise was generated at Martin's ears – meaning that he was at risk of permanent hearing damage after just four minutes. Skidmarx's touring screen reduced the amount of wind noise, but at 94.2dB, the maximum exposure time was still only 18.2 minutes. Yamaha's official touring screen faired best, reducing the level to 92.4dB, but this was still only safe for 27.6 minutes of riding. Changing helmet for a Shoei Hornet ADV (adventure type) and X-lite X-803 (race style) made only a negligible difference. Both were marginally noisier than the HJC. We also removed the Yamaha's screen, which saw a marginal decrease in the amount of wind noise generated. Then we ran the Zero electric bike to see if the lack of engine noise was a contributing factor. We found that 70mph on the unfaired Zero exposed the rider to 99.9dB of wind noise, which was marginally less than the petrol powered Yamaha.
The purpose of the test was to prove (or otherwise) the myth riders don't always need to wear earplugs as different screens and helmets can reduce exposure to wind noise to safe levels.
While there were differences in the various scenarios, no screen or helmet reduced exposure to anywhere near 85dB, the level at which the Health and Safety Executive determines that ear protection must be provided in the workplace due to the risk of tinnitus and hearing damage. Indeed both the Yamaha and the Zero generated more than this threshold at 50mph and proved safe for just over 25 minutes of exposure.
For further research, we tested the HJC/standard screen combination at 90mph, where the decibel level shot up to 105.2dB (1.4 minutes exposure) and 137mph (114.2dB and 10 seconds exposure).
You can read RiDE's full, independent report in their current issue (out now) as well as a test of 12 of the most popular ear plugs on the market. We were delighted to discover that Auritech Biker plugs were awarded RiDE's prestigious Best Buy award, after topping the test, with product tester Jim Blackstock commenting that he would 'rather buy a pair (or Auritechs) rather than a box of 200 disposable plugs'.
Our Biker earplugs feature a specially tuned ceramic filter, which has been designed to reduce the harmful high frequency sounds like wind noise, while allowing those important lower frequency noises to get through to the eardrum. RiDE observed that they 'gave the best reduction in unwanted noise, while still allowing the intercom to work.'
To try a set for yourself, head over to https://www.auritech.co.uk/universal-fit-earplugs/biker.html